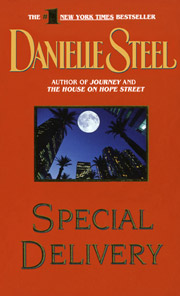 At 59, Jack Watson owns one of the most successful boutiques in Beverly Hills, has two adult children who are the light of his life, and his choice of Hollywood's most beautiful women. After a failed marriage in the distant past, and a brief, tragic affair years afterward, Jack has become the perfect bachelor. And he loves it.
Amanda Robbins knew Jack Watson only as her daughter's father-in-law, an incurable playboy whom she dislikes intensely. Theirs had been a relationship based solely upon the marriage of her daughter to his son. And Amanda wants no other relationship with him. But when she becomes a widow unexpectedly, twenty-six years after she retired from Hollywood stardom to become a wife and mother, Amanda finds herself on unfamiliar ground, and is surprised to find herself both befriended by, and attracted to, Jack Watson. Worse yet, she likes him. There is a lot more to him than she previously suspected.
Amanda's shock at her attraction to Jack is equaled only by her children's. Then suddenly, a startling announcement stuns both families, as Jack and Amanda are faced with an unexpected gift that neither thought possible, and with a choice that provides them both considerable challenge. But at a time in their lives when they least expect to feel that way, they not only feel young again, but are blissfully happy, in spite of the confusion, opposition, and obstacles all around them. Special Delivery is about what two people do when life gives them everything they wanted, twenty years after they expected to find it. In her 40th bestselling novel, Danielle Steel makes us laugh and cry as she touches the heart with tenderness and accuracy.