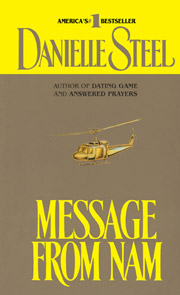 As a journalist, Paxton Andrews would experience Vietnam firsthand. We follow her from high school in Savannah to college in Berkeley and then to work in Saigon.
For the soldiers she knew and met there, Viet Nam would change their lives in ways they could never have imagined. For the men in her life, Viet Nam would change their lives in ways they could not escape or deny. Peter Wilson, fresh from law school, was a new recruit who would confront his fate in Da Nang. Ralph Johnson, a seasoned AP correspondent, had been in Saigon since the beginning. He knew Vietnam and the war inside out. Bill Quinn, captain of the Cu Chi tunnel rats, was on his fourth tour of duty and it seemed nothing could touch him. Sergeant Tony Campobello had come to Vietnam from the streets of New York to vent a rage that had followed him all the way to Saigon.
For seven years Paxton Andrews would write an acclaimed newspaper column from the front before finally returning to the States and then attending the Paris peace talks. But for her and the men who fought in Viet Nam, life would never be the same again.