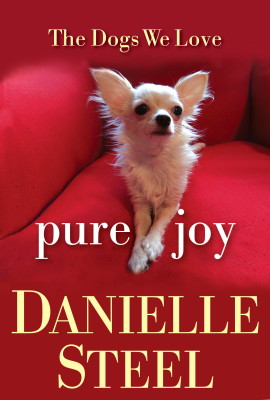 It was time again. To take a chance. To expand her life in unexpected ways. To find a companion with whom to travel the world. So a successful novelist begins a dogged search. Who knew the perfect choice would be a smaller-than-small, long-haired teacup Chihuahua named Minnie Mouse? It was love at first sight.
In this funny, lovely, moving memoir, Danielle Steel tells the story of how she met a dog the size of a mouse with a personality that could light up an entire room. From Minnie's arrival at home in San Francisco to clothes-shopping jaunts in Paris, her adventures provide the perfect backdrop for a heartfelt look at the magic that dogs bring to our lives, and how they become part of the family, making indelible memories.
We meet Steel's childhood pug, James; and Elmer, the basset hound who was steadfastly at her side in her struggling days as a young writer; Sweet Pea—unveiled in a Tiffany box for a dog-loving husband—and all those lucky dogs who shared a household of nine children, other canines, and one potbellied pig. As she reflects on the beloved pets who have brought joy, and sometimes chaos, to her home through the years, Steel also shares her thoughts on the trials and tribulations of bringing a new dog into a household, the challenges of housebreaking and compatibility, the losses we feel forever.
Filled with colorful characters (human and otherwise), delightful photographs, practical wisdom drawn from long experience, and brimming with warmth and insight on every page, Pure Joy is a love letter to this special relationship—and one of the most charming books yet from the incomparable Danielle Steel.