Dogs, Dogs, Dogs
I have a lot of kids, and we all have a lot of dogs. When my children were younger and all still at home, each of them had a dog, and some had two. (We also had a potbellied pig, which was a LOT less fun! Having had one, I think pigs are over-rated as pets.) We've never had cats because I'm allergic to them, so dogs were the order of the day. And each of the children have their favorite breeds.
I grew up with pugs, so I always had a special fondness for them, though they're not always an easy breed. I had two as well when I was grown up. And I had a brief and disastrous try with French bull dogs, and unfortunately got two really nasty ones, so I'm shy of the breed, although I'm sure there are nice ones. The two I had were mean and vicious.
My favorite breed, for myself, are miniature Brussels Griffons. They look like Ewoks, and have funny little squashed faces (a short nosed breed), and if not clipped, have a shaggy look. Some people cut their ears, but I prefer the floppy ear look. And many people shave them with a Schnauzer style haircut, but I like them shaggy looking with longer hair. They are lovable, loving, quiet natured, sleep a lot, and are easy to be with. My favorite favorite current one is Gracie (a blonde), and she looks exactly like the Griffon they used in the movie 'As Good as It Gets'. I also have three others, Meg, Hope and Ruby, Meg is black. (Griffs come in blonde or black, and the black ones are harder to come by). And Hope and Ruby are blonde like Gracie. Meg, Hope and Ruby are very sweet, although Gracie is the family princess. I had 3 other Griffs before this, from the same litter, and they got me hooked on the breed.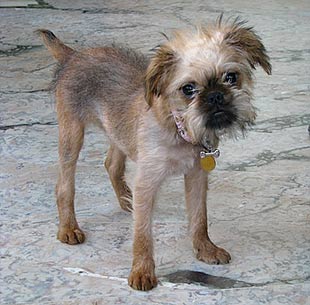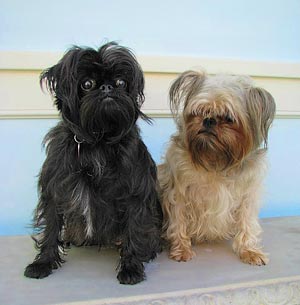 I've fallen in love with my white long-haired teacup Chihuahua, Minnie Mouse. She weighs 2 lbs and travels with me. I like to say that she is "The owner of author Danielle Steel". She owns me. Easy, sweet natured, adorable, cuddly.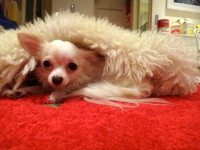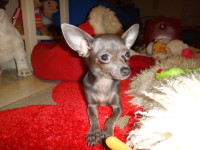 Blue is a female, her official name is Baby Blue Angel, because she is a rare 'blue' color, which is a dark bluish gray, she's a short hair, and is now six and a half months old. We call her Blue or Baby Blue, and she is FULL of mischief. Minnie is very ladylike and gentle, Blue is very cute, but turbo charged and wild.
Each of my children seems to have a favorite breed: My oldest daughter Beatrix is loyal to Brussels Griffons (currently: Simon), Trevor Miniature Fox Terriers (Tippy), Todd Labs and Dachshunds (Birdie and Pretzel), Samantha Miniature Dachshunds and then Chihuahuas (Mia, Chiquita, though both are gone now), Victoria Teacup Chihuahuas (Tallulah), Vanessa Toy Yorkies (Gidget), Maxx Miniature Boston Bull Terriers (Nancy), Zara is allergic to dogs and Nick had a Brussels Griffon named Molly. My husband John had a series of Miniature Black Dachshunds (Sarabelle, Sweet Pea, Licorice and Victoire). We've never had big dogs.
In October 2013, my book about our dogs came out, appropriately called "Pure Joy" (Random House).
It's a lotta dogs, but we love them!!