Hi Everyone,
How are you?? All is good with you, I hope!!!
I had a wonderful Mother's Day with my kids a week ago, and felt very spoiled. Brunch at home, and dinner out with some of them, and one flew in specially, and I had had a lovely time in New York before that with two of my girls. We have passed the stage of macaroni necklaces and Kleenex boxes decorated with flowers and beads (which I loved and kept them all!!), and I always miss that and remember it fondly, but sometimes it's nice having grown up kids that you can really spend time with and enjoy. So I had a great one, which I really appreciated. My kids saw to it that I had a great time and was spoiled!!! And felt very loved, just as I love them.
I don't very often get a chance to go to movies, since I usually work at night, but I had finished a big block of work this week, and decided to treat myself to a little time off, and on the spur of the moment went to a late movie when I finished work. I had heard the name of the movie, but didn't know much about it, "Woman in Gold", with Helen Mirren and Ryan Reynolds. It's a true story about an Austrian woman, from a previously wealthy Jewish family in Vienna, before the war, that lost everything they had to the Nazis. They had a beautiful home in Vienna, and collected spectacular, famous and very valuable works of art. They had collected the work of Gustav Klimt, whose paintings I have always loved. They are mostly gold, typical of the 1930's, with beautiful women in them. One of my favorite ones is called "The Kiss". And in fact, I've used one of the Klimt paintings as art work on a book cover, when it seemed appropriate. And in the case of the woman the movie is about, one of Klimt's most famous paintings of a beautiful woman was a portrait of her aunt.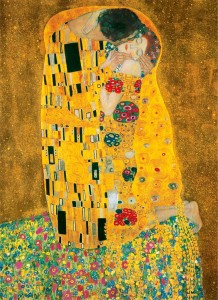 » read more »