Hi Everyone,
How are you?? All is good with you, I hope!!!
I had a wonderful Mother's Day with my kids a week ago, and felt very spoiled. Brunch at home, and dinner out with some of them, and one flew in specially, and I had had a lovely time in New York before that with two of my girls. We have passed the stage of macaroni necklaces and Kleenex boxes decorated with flowers and beads (which I loved and kept them all!!), and I always miss that and remember it fondly, but sometimes it's nice having grown up kids that you can really spend time with and enjoy. So I had a great one, which I really appreciated. My kids saw to it that I had a great time and was spoiled!!! And felt very loved, just as I love them.
I don't very often get a chance to go to movies, since I usually work at night, but I had finished a big block of work this week, and decided to treat myself to a little time off, and on the spur of the moment went to a late movie when I finished work. I had heard the name of the movie, but didn't know much about it, "Woman in Gold", with Helen Mirren and Ryan Reynolds. It's a true story about an Austrian woman, from a previously wealthy Jewish family in Vienna, before the war, that lost everything they had to the Nazis. They had a beautiful home in Vienna, and collected spectacular, famous and very valuable works of art. They had collected the work of Gustav Klimt, whose paintings I have always loved. They are mostly gold, typical of the 1930's, with beautiful women in them. One of my favorite ones is called "The Kiss". And in fact, I've used one of the Klimt paintings as art work on a book cover, when it seemed appropriate. And in the case of the woman the movie is about, one of Klimt's most famous paintings of a beautiful woman was a portrait of her aunt.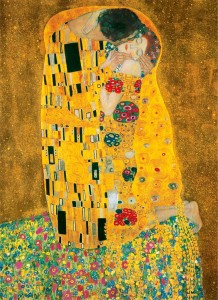 The Klimt paintings, along with all their valuable possessions, were taken from this family by the Nazis. The woman the movie is about fled Austria when the Nazis occupied it, with her husband (they were newlyweds), and her cousin fled too. They wound up in America, and it seems as though the rest of the family was lost to the Nazis during the war. And after the war, the Klimt paintings turned up in a museum in Vienna, which claimed that they belonged to them now and would not give them up.
Through a friend, the Austrian woman connects with a young American lawyer, the son of a friend of hers, and he embarks on a battle with her to reclaim the paintings that once belonged to her family, and should rightfully belong to her, as the last survivor of the family, but because of their enormous value now, and great artistic importance, the Austrians put up a fierce fight to keep them. And this woman and her young lawyer fight hard to win them back. Many people in Austria put obstacles in her path, others help her. And the movie is the moving story of her fight to regain what is rightfully hers, through miles of red tape. The family had lost all of their money during the war, taken by the Nazis, and she has led a simple life ever since, but with great dignity. Helen Mirren plays the role of the Austrian woman with breathtaking brilliance, in a deeply moving performance, and Ryan Reynolds (handsome hunk that he is, always one of my favorites) gives a fantastic and also very moving performance as the young lawyer.
It's an exciting story to watch them fight for what is right, as her memories overcome her of the loved ones she lost. It is an absolutely beautiful movie, one of the best I've ever seen, performed by remarkably talented actors, in a true story filled with drama, suspense and poignancy, and to see how it turns out in the end. There's a wonderful line in one of the young lawyer's arguments to the court, that the woman seeking her paintings back came to America in wartime to find peace, and she deserves justice now as well. The whole movie touched me greatly, and I sat riveted to my seat, and it has haunted me since I saw it. If it's playing anywhere in your area, please go. You wont be disappointed. It is a truly wonderful movie!!!
love, Danielle