Hi Everyone,
Okay. I have a confession to make. And if you're expecting something juicy and sexy, you'll be disappointed. I indulged myself shockingly about 2 months ago, and it has taken me 2 months to confess it. But now, here I go.
Two years ago now, before Thanksgiving, I was looking to find a dog to travel with me. I had been looking for months, and needed a very small dog that I could take on and off planes, in a travel bag in the cabin.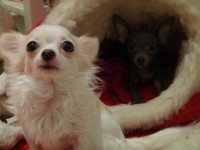 And eventually, after months of searching, true love happened. I fell in love with a TINY (less than one pound) white long haired Chihuahua that was the cutest thing I have ever seen. As an aside, I find that once adult, or perhaps as young adults, children take a hard line with their parents. My children's mantra is "You don't need that!" Oh. Whatever it may be. Another purse in a weird color, another pair of high heeled black shoes (a woman can never have too many pairs of black shoes, particularly high heels), some piece of furniture I decide I want….or even a person I want in my life, as friend, employee, or other. In their opinion, a parent is a loving service bureau, with a crisis hot line 24/7. We don't really need a social life, even less a man if we're single, besides that would only interfere with our availability. We need to be poised at the ready at all times, and anything you do that could distract from that poses a threat to them. So forget boyfriends, high heels, a silly dress you want desperately, friends in some cases, and other distractions. You are to be standing ready to leap, fully focused at all times. In the case of the adorable white chihuahua I fell in love with, only one daughter (of all my kids, and I have many) was supportive of my getting her. The others were all outraged. What do you need a dog for? The idea that a parent might be lonely, sad, need company, or need even a doggie pal to talk to after the kids grow up and leave is totally foreign to them. It's not mean-spirited, I suspect, it just never occurs to them that you might be lonely or have needs too, other than just being a parent.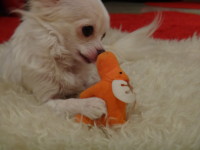 In any case, I bravely ignored their stern critical comments and disapproval, was grateful for the support of the one daughter, and fell totally in love with Minnie Mouse, my adorable white Chihuahua, who is now 2 years old, one of the great dog loves of my life, terrific company and super affectionate, and weighs 2 pounds full grown. She is totally pampered and loved, (has a ridiculous wardrobe of tiny pink sweaters) and makes me happy. She has kept me company on many a long, lonely night, and travels everywhere with me. (you can read all about her and my other dogs over the years in my current little gift book "Pure Joy", which came out last month, and is a fun gift for any dog lover. I love that little book and am very proud of it. And it has 40 photos in it, of my dogs and my kids' dogs, and some dogs I have given to friends).
Fast forward the film 2 years to this past October, almost exactly 2 years after I found Minnie in a pet shop in NY. I was doing an errand for one of my daughters, and on a whim, "for old times' sake", I stopped in at the same pet store, "just to look". "Just to look" at anything usually turns out to be a lie. Somewhere in my heart of hearts, there must have been a tiny window open, just big enough for a new puppy. Oh oh. Big Uh oh!!! I'd been back to that pet store before, for supplies, and saw the usual cute puppies, none of whom snagged my heart. But they know me at that store, and just as they did with Minnie, two years before, they came out of the back room carrying a 14 oz., eight week old short haired "Blue" Chihuahua (a kind of steely blue gray, a very rare color). She was ridiculously small, and once again looked like a mouse. I held her for a few minutes, and whereas Minnie had been timid and shy, this puppy was adventuresome and brave and funny, and fearless once we set her down. And I started falling in love, while telling myself I didn't need another dog, and that managing two dogs on my travels might be too much. I tried hard to cling to reason (with little success). I mentioned her to my children that night, who were unanimous this time. The consensus was that I was nuts, don't even think about it. I got NO family support about the new puppy. None. I was told to forget it. And honestly, I tried. For three days the little blue gray chihuahua puppy haunted me, and not only did I have my children's disapproval to deal with, but my guilt toward Minnie, who had become the princess in my life. How would she feel about it? I did the only possible thing, I lied to everyone, including Minnie. I went back and saw the puppy again before I left New York, with one of my daughters who was adamant. You don't need her. DON'T do it. So I paid for the puppy in secret and told no one. She had to stay at the pet shop for a month because she was too young and too small to go home. I literally told no one what I had done. And surely not my kids. I didn't even mention it to you on this blog. For a whole month, I said nothing, and then it was time to bring her home.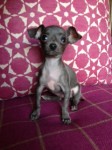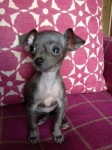 She didn't have all of her vaccinations yet, so I couldn't take her to France yet, and had to send her home to California, which required admitting my dark secret to a kind employee, who promised to take care of her until I came home. And because she is officially 'blue", I named her Baby Blue Angel. I should have called her Blue Secret.
I still have one daughter who lives at home, my youngest. And the day after the puppy arrived at my home (without me), my daughter called two of her sisters. "There's a dog in the house and it doesn't belong to anyone. Do you know who it belongs to?" No one knew, but my other daughters rapidly began to suspect the culprit. It was me, of course. I still admitted nothing. Dog? What dog? I don't know. (It's amazing how one can feel 10 years old at times faced with one's children). I had bought a playpen, beds, blankets, toys, bowls and all the paraphernalia for a new puppy, but said not a word to a soul, except the person taking care of her while I was away. And when I got home, three weeks later, I had to face the music and confess. Everyone thought I was ridiculous, and reminded me that I didn't need another puppy. And much worse than that, Minnie was not pleased to have a sibling. I could at least argue with my children, but not with Minnie, and I didn't want her to be unhappy. My adult kids would get over it. Minnie might not, I feared. An intruder had arrived on her turf, wanted to play with her toys, sleep in her favorite bed, and wanted my attention. Those first weeks were a juggling act, harder than any I experienced with my kids, who were always good humored about the arrivals of their siblings. I did a LOT of apologizing to Minnie, and trying to keep both of them happy. And on Thanksgiving, everyone came home, and fell in love with the new puppy, who is adorable. We call her Baby Blue, or just Blue.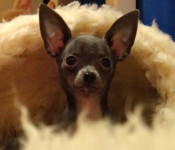 And suddenly I was no longer a self-indulgent criminal, and maybe I wasn't as crazy as they thought. Two of the girls fell totally in love with her, and even my youngest son who was anti-Minnie for an entire year, thought Blue was very cute. And indeed she is. Minnie is not quite as convinced. And a month after I got home with Minnie, and she met Blue, things are starting to calm down. The mesh between the two is not perfect yet, but we're getting there. And Blue made her first trip to Paris with us. And like all puppies, she pesters Minnie a lot, and wants to play constantly, which sometimes annoys Minnie, but they are very cute together, so maybe I wasn't so crazy after all. And the kids have adjusted too, and have forgiven me for getting Blue. Whew!!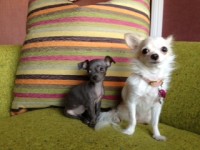 So now I am confessing to you. I have a new puppy. She is adorable. I love Minnie just as much as before, but have room in my heart and life for Blue too. She's only four months old, so she is still a lot of work, and it takes some managing traveling with 2 dogs, but it's worth it. And I'm so glad I have her!!! I will attach photos of her to this blog. The white long haired Chihuahua is Minnie, and the little gray one is Blue. She is full of mischief!!!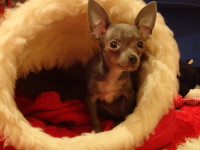 Amazing how anything so small can be so much work, but she is totally worth it!!! And Minnie is still the beloved princess, and Blue a happy addition to our lives. So it goes to show that sometimes maybe it's a good idea not to listen to one's children. I may not need her, or even Minnie, but I love them. And I am still there for my kids too obviously!!! My availability to them, and love for them, has not diminished as the result of acquiring another 2 pound dog!!
I wrote a book about Minnie and the dogs in our family over the years, with some pet owning advice. It's called "Pure Joy", and came out last month, with 40 photos in it. If you're a dog lover, or know one, it's an adorable little book and I love it. It makes a great gift, and I'm very proud of it. Blue isn't in it of course, since I got her after it came out. I hope you get that book and love it. (And I have children's books coming out next year about Minnie, and will probably write one about Blue).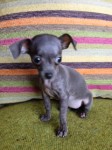 So there it is. Now you know the truth. I fell in love with another Chihuahua. We all have our weaknesses, and that seems to be mine. I have nine kids, so who can be surprised that I have two tiny Chihuahuas? I can see objecting to a herd of elephants in the house, or alligators, or hippos. But 2 two pound dogs??? Sometimes you just have to go with your heart, no matter what anyone says, and I did. And I'm so glad I did!!! Take a look at those photos. Could you have resisted her? I couldn't, and I'm so happy I got her.
love, danielle