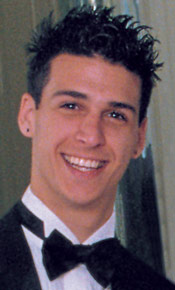 As many or most of you know, I lost a son, at 19, sixteen years ago (this week). Nick was bipolar all his life, and committed suicide, on his fourth attempt (he tried it the first time at 18, and succeeded 11 months later). And although the other term for bipolar is 'manic-depressive', most of the time, he didn't seem like a depressed person, and when he wasn't okay, he was more 'manic' than depressive. But above all, he was an amazingly fantastic kid, funny, multi-talented, creative, outrageous, nothing fazed him, and he did all the funny outrageous things that most of us wish we had the courage to do. (He politely but definitely leaned over to the restaurant table next to ours once, when he was about 16, had a spoonful of someone's hot fudge sundae, and said "Wow, that is yummy!!". And he was so funny and charming and surprising, with the biggest smile you've ever seen, that the people with the sundae just laughed and couldn't get mad at him (although I nearly fell out of my chair with embarrassment when he did it!!). You could never predict what he would do next!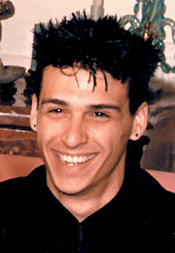 Hard as it is to believe, Nick would be 35 now. That seems ridiculous, because in my heart and head, and memory, he will be a teenager forever. And when he was in his teens, doctors would neither diagnose bi-polar, nor medicate it. The belief then was that you couldn't diagnose bipolar disease until someone's early twenties, and doctors refused medication for it before that. It was a major victory then when I got medication for him at 16, and considered way, way, way too early. The doctor who gave him the medication, finally, understood the problems better, as he was bipolar himself. And there are a great many educated, talented, successful people who are bipolar. And not everyone dies of bipolar disease, just like not everyone dies of cancer, but some do. And untreated, bipolar can be lethal. From the moment Nick was put on lithium at 16, everything in his life changed. He said he felt normal for the first time in his life, and he went to school and did well, was happy, and pursued a career in music. He had three happy years on the medication, until it stopped working as well for him, and he went off it a few times and ultimately died. Today, bipolar is diagnosed as early as age 3, and medicated at 4 or 5, perhaps younger. And the belief now is that if they are medicated early, they can actually lead a better, healthier life. But that was unheard of when Nick was that age, and simply not available to us. It's hard to know, but possibly if he had been medicated earlier, he might still be alive today. It was probably already too late for Nick by the time we got medication for him at 16. I don't think he was destined to be here long, and when I read his diaries afterwards, I discovered that he had been contemplating suicide since he was eleven, although one would never have suspected it, if you knew him. (I wrote a book about him afterwards, called "His Bright Light")
That's the sad part of the story. The happy part is that he was a happy, exuberant, wild funny kid. He could always make you laugh, and laughed a lot himself. He discovered hair dye at about 15, and worked his way through turquoise, royal blue, and green, before settling on black which suited him (better than green). I think his most distinctive personality trait was how funny he was. He was incredibly smart, had a genius IQ, and had a huge talent for music. He began singing with a band at 15, sang with another band at 17, and they were becoming very successful by the time he died. He was the lead singer and worked hard, and had gone on tour with his band three times. He was hugely talented and dedicated to singing, being a musician, and writing lyrics (which were actually good), and there are still CD's of his work being sold, the band he achieved the most success with was Link 80. He sang and played punk rock and reggae.
Nicky stories are legion in our family, and among people who knew him. People still contact me today, whom I don't know but knew him, to tell me touching or funny stories about him, which is always very poignant. He had a huge heart and always wanted to help someone more unfortunate, and always had deep compassion for the homeless. He was a deep person despite his sense of humor and easy laugh. (And there are heart wrenching entries from his diaries in my book). From all his own suffering, he had a deep compassion for other people. And he and I were very close, because we went through so much together, and our whole family and his eight siblings adored him. He was our hero.
So now, we remember the stories. We smile at the memories, we still laugh at the outrageous stunts he pulled, and that smile could have lit up a room. We were blessed to know him and love him, and nineteen years with him seems far too short, but we were lucky to have him for as long as we did. The world will remember him, through his music, our memories, and my words. And he will live in my heart forever. He will always be my special boy, the angel who flew away too soon (and he could be a little monster when he wanted to, especially as a little kid!!). He died on September 20th, sixteen years ago, and I couldn't let the date pass without sharing him with you.
love, danielle