Hi Everyone,
I hope you had a good week. I had a birthday last month (I always dread my birthdays, but I had a great one this year!!! With my children, we spent a weekend together, and REALLY enjoyed it).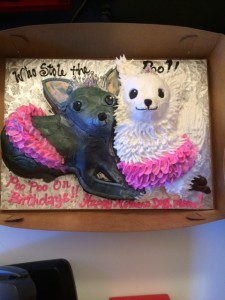 The joke of the birthday was that my kids had a fantastic birthday cake made: it was a life size and life like sculpture of my two tiny Chihuahuas, Minnie and Blue, wearing tutus and tiaras. The cake showed them looking real, was the cutest thing I've ever seen, and the baker who made it was a genius. I was THRILLED with my birthday cake, and because it was so cute, I wouldn't let the kids cut the cake——I wasn't about to let them chop off a nose or an ear, or a paw when it looked so real and so adorable—-I spent the weekend protecting it, and made the family eat apple pie instead!!! And there were a LOT of complaints about it. I took the cake home after the weekend, untouched, like a work of art. It would be hard to top that cake!!!
I got wonderful gifts from my kids, even a pair of shoes that said "I Love U", and lots of other gifts, shoes, sweaters, bracelets, a ring with a heart on it, all kinds of thoughtful things I loved and have been enjoying since. And I got a really sweet little tiny miniature book from a friend, with sayings about love and marriage that I found extremely touching and wise. (Including a very funny quote from Phyllis Diller that said "Don't go to bed mad, stay up and fight"). The book is called "Words about Love" from the Orange Art Miniature Press. And I wanted to share my favorites with you here. Since you all know how much I love quotes!!!
– "Money can't buy love, but it improves your bargaining position" – Laurence Peter
– "The great secret of successful marriage is to treat all disasters as incidents and none of the incidents as disasters" – Harold Nicholson.
– "Often the difference between a successful marriage and a mediocre one consists of leaving about 3 or 4 things a day unsaid" – Harlan Miller.
– "Be good to yourself, be excellent to others, and do everything with love" – John Wolf
– "We can do no great things, only small things with great love" – Mother Teresa
– "Love your neighbours—not the neighbours you pick out, but the ones you have" – Wendell Berry
– "A successful marriage requires falling in love many times, always with the same person" – Mignon Mc Laughlin
– "Love has to be put into action, and that action is service" – Mother Teresa
– "Love does not consist in gazing at each other, but in looking outward in the same direction" – Antoine de Saint Exupery.
I thought they were wise and helpful, and some good reminders!! Have a great week!!
love, Danielle
(Footnote: After writing this blog to you a few days ago, I was shocked yesterday to learn of the passing of my friend and very talented writer Jackie Collins. She was a wonderful woman, and apparently has been battling breast cancer in secret. We spoke several times only a few weeks ago, and she didnt even hint at it. We've been friends for many years, I admired her talent enormously, and loved her as a person. She was an incredibly kind friend, and helped me for several years with my son Nick's foundation, and came to San Francisco to visit me. She will be greatly missed by all her friends, for her kindness, wit, sharp mind, beauty and great sense of humor……my deepest sympathy to her family and all who knew and loved her. A truly terrific woman. Farewell, beloved friend.)