Hi Everyone,
I hope that all is well with you, and that your fall is rolling out nicely.
This is usually not an easy week for me. We all have our challenges in life, and my greatest one was losing my son Nick eighteen years ago, when he was 19. Those of you who've read my book about him, His Bright Light, know that he was bi-polar all his life. I suspected that something was wrong, or very different about him, when he was 18 months old, by the time he was four years old, he was fully and obviously bi-polar, although then people with bi polar disease were never diagnosed until their early 20's. I spent years telling doctors his symptoms, always to be told that he was just very bright, or too bright, or 'spoiled', and not to worry. Today, children are diagnosed with bi polar disease, and treated with medication and therapy at three or four. In Nick's case, his diagnosis was confirmed at 16, which was considered early then. The psychiatrist who diagnosed him was bi polar himself. And once medicated and treated, he had 3 great, mostly happy and VERY productive years until the end. He was hugely talented in music, as a musician and lead singer of a successful band. And despite his illness, he had a lot of fun, and gave us enormous joy. I always hasten to remind people that many, many, many people with bi-polar disease survive it, live well, manage it successfully, and have full, happy, and productive lives. Living with bi polar is challenging, like a lot of other illnesses, but can be successfully managed. Some are unlucky, like Nick, but many people survive it well.
Nick was talented, funny, brilliant, thoughtful, kind, creative, he had a big talent as a writer and musician. He was a good friend,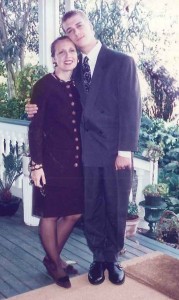 a very charming kid, an incredibly sweet person, and a much loved and loving brother and son. His down times proved to be too much for him, so he chose to exit this world, a tough decision for all of us who loved him, but the way he was determined to go. He attempted to commit suicide three times, before he was successful (if you can call it that) on the 4th time. Losing anyone you love is tough, even brutal, and it rocked us all. I think it brought our family closer to each other, to survive it. He left a tremendous void, and a family of aching hearts when he went. You learn hard lessons when you lose someone, which make you better and stronger as a person. And he is remembered in a million ways in our family and by his friends, as the remarkable person he was. In many ways, he never really left us, we talk about him all the time. There are a million funny stories about him and the sweet, funny, and outrageous things he did. He was a gift, and is loved and cherished still.
Losing someone you love, or a child, is a lesson none of us want to learn, and is one of the hardest experiences in life. He has gentled into a tender memory with time, most of the time when I think about him (daily) I smile at something he said or did—-and sometimes I laugh out loud. I believe he is at peace, and always feel him near. The anniversaries are hard as you remember one of the worst days of your life. But to honor those we love, we must go on, reach out to others, and hold tightly to those we hold dear. As hard as it is, his life and even his death have to be a blessing in the end, to us, and those who know us. I share that blessing with you now, he was a lovely boy. And to those who have lost loved ones, my heart goes out to you as well. Let us remember them with joy, with tenderness, with compassion for others, let us honor their lives by the love we share, which is how they live on, through what they accomplished in their time here, and the love they left us as their legacy to share with the world. I will be thinking of Nick this week, the anniversary date is Sunday, and I send you my love, and share with you the gift and blessing that he was. Have a peaceful week.
love, Danielle