Hi Everyone,

I recently had one of those great fun experiences that I love to share with you. I've told you before about the White Dinner that I go to in Paris every year. Six people organize it, thousands of people are invited and attend (by invitation only). They are told at roughly 6:30 pm to come to a meeting place bringing a table, 2 chairs, their meal, it must be elegant and not a picnic, and you must be wearing white from head to foot (It was started about 26 years ago, by a naval officer, who invited friends to join him and his wife for their anniversary, in front of one of the monuments in Paris. And it has become an annual tradition since then). You must go to the meeting place at 7:30 pm, you stand around with your friends, or strangers, and at 8:45 pm, you are told the REAL location of the dinner, always about a 5 or 10 minute walk away from the meeting point, (carrying all your equipment, table, chairs and meal). And the dinner is held in front of one of Paris' spectacular monuments. This was my fourth one, invited by a close friend who invites me every year—-and you are invited as a couple, so there must be two of you—–and I have been to the White Dinner in front of Notre Dame Cathedral (which was beyond spectacular!!), in front of the Louvre amid the glass pyramids all lit up, and last year on the vast lawn in front of the Invalides. The group has gotten so large over the years, that I believe it reached 14,000 by last year, divided into 2 groups, at 2 locations. The remarkable thing about it is that it is kept secret until the last minute, thousands of people show up wearing only white, NO ONE ever tries to crash the event, and with the backdrop of the monuments of Paris, it is an exquisitely beautiful event visually, and everyone behaves impeccably. By 9 pm you reach your final destination.

You set up your table WITH tablecloth and napkins, candles, real plates and glasses and cutlery (NO picnic stuff), and by 9:15 you are seated. It is done with minute precision, when you arrive you are assigned a spot just big enough for your small folding table for two, and you have to set it down where they tell you. You can't wing it, or decide you prefer a different spot. The table locations are assigned in long, long rows, and when the organizers point to H127, or B223, that's where you set up, not ten feet away from it, or somewhere else where you spot a friend. The spots are calculated by the inch. The small tables for 2 form a long line of diners, women on one side, men on the other. And as you begin the meal in the festive atmosphere, darkness falls, candles are lit on the tables. And at midnight, you are handed sparklers, you stand and hold them aloft, and the entire location is lit by candlelight and sparklers, a truly dazzling sight. There is music after that if you want to dance.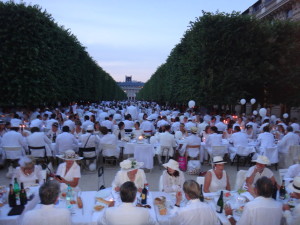 And some years, people have brought beautiful Chinese paper lanterns that they light and sail up into the night sky. And the final rule is that The White Dinner ends at 1 am, at 1am like Cinderella (only an hour later), your stuff must be packed up, you have to leave the location IMMACULATE, not a shred of paper, cigarette butt (it's France!!), wine cork or so much as a raisin can be lying around where you were. You take your garbage with you, and as the evening ends, there must be NO evidence that anyone was ever there. The event is not to disrespect the city or create clean up work for others, it is to celebrate the beauty of the city, and respect it unfailingly. Every single time I have been, it has been absolutely magical, and one of the most exciting nights of my life. Last year and the year before, I think there were 10,000 people at the location where I was, but it didn't look like that many. It is NEVER rowdy, but just pure good respectful fun, and it amazes me that no one tries to crash. The night is all about respect, for each other and the city. (The event has been imitated in other cities, but Paris is the original one.

This year, when I spoke to the friend who always invites me, he told me that they were going to try and slim the numbers down, the event had just gotten too big, so fewer people were going to be invited, though still in the thousands. And after the sad terrorist attacks last winter, I asked if there were any security concerns, and my friend admitted that there were some. Paris was tense for many months after those tragic events, but the White Dinner was still on, and the date was set. Technically, it is an 'illegal' event, because there are no permits or permissions for it. People arrive en masse to sit down and eat dinner in a public place, but it's such a benign happy event that the police cruise by it from time to time, but turn a blind eye to it, and don't interfere. And I have never seen any kind of argument or brawl while there. People are all dressed up and on their best behaviour.

And as always, I got ready for the night with great excitement, figured out what I was going to wear, and the friend I bring every year is a great cook, and plans the food. I provide the table setting, candles, etc. And I will confess that I was a little anxious that something could happen, in the same vein as the attacks earlier this year, but I didn't want to voice my fears again. So we went to the meeting place, in Les Halles, a somewhat industrial area in the first arrondissement.(I haven't been at a White Dinner at the Eiffel Tower, and hope I get to do that one day) I couldn't figure out which monument we were headed to. The crowd still looked pretty big, and at the appointed hour we headed toward the Louvre, the big museum, about a 10 or 15 minute walk from where we were. (And you pull your supplies along in a grocery caddy. And one of you carries the folding table and chairs. Fortunately not me, since mine are very heavy!!)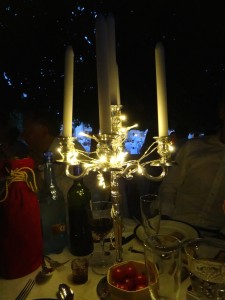 We headed toward the Louvre Museum (once the palace of The French Court), to dine in what is called "La Cour Carre", the square courtyard, and you have to access it through a gate. And even before we reached it, word rippled through the crowd: someone, either the police, or the museum people had closed and locked the gates. We were shut out. This was a first!! Now what, as about 6,000 people began to back up, pulling their caddies full of dinner, and folding tables. But guests at the White Dinner are resourceful. I was part of a large group, and they immediately decided to walk another block or two to the Palais Royal, one of the original palaces of Paris in the days of the kings before The Revolution. So we shifted direction and kept walking. There are shops on the ground floor of the Palais Royal now, and apartments on the upper floors, it is a large rectangle with a huge beautiful garden in the middle with gravel areas and paths, and lovely trees within the courtyard. We arrived there, and without specific assignments, people very politely set up their tables in long rows. But it wasn't quite as orderly as usual, people were startled to have to find an alternate location, and within minutes thousands began to arrive in orderly fashion and set up their tables. Some put them under the trees, which looked like a magical forest once the candles were lit.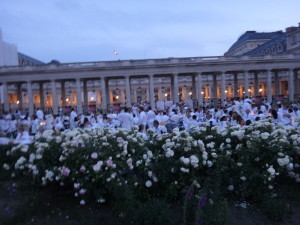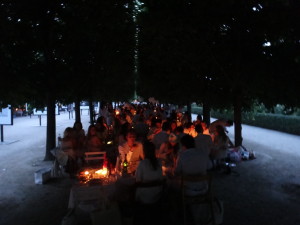 Others were out in the open. Everyone found a place to set up, and there must have been four or five thousand people there. It seemed louder than usual, and the rows of tables were a little more free form. Some people had hired small orchestras, and by 9:30 everyone was seated, as always, but it was different in the alternate location, it didn't quite have the military precision of the past. But in no time at all, everyone was eating dinner by candlelight and had a wonderful time.
So the White Dinner couldn't be stopped, it had found another beautiful home for the night, and everyone was excited to be there. My group left at midnight instead of 1 am, and we left our area spotless, as I'm sure others did too, following all the rules. So the magic continued after all, and I thought the Palais Royal was even prettier than the Louvre would have been in the Cour Carre. It was a tribute to being resourceful for a night that has great meaning to Parisians, and even visitors. As they always do, several people had flown in from other countries around Europe, England, Poland, Italy, Spain, one couple flies in from India every year. It is always a special night, and it was this year too…even if the location wasn't the one originally planned. And with the true magic of the night, the weather was perfect, balmy and warm, although storms had been predicted. And five minutes after I got home, still marveling at the beauty of the night, I heard the rain begin outside my windows. Even the rain held off until the White Dinner was over, with great respect for the thousands of diners…what a beautiful night…it always is, even if slightly different this year. The White Dinner never lets us down. And the magic is always there to thrill us all!!!
love, Danielle