Hi Everyone,
I was packing for the summer, surrounded by tee shirts, bathing suits, light clothes, and mostly shoes, when I decided to make a confession to you. I'm not addicted to gambling, and have never been interested in it. Not addicted to any special past times, and never fooled around with booze or drugs…..but SHOES!!! I am confessing: I am totally addicted to shoes. Nothing makes me happy or cheers me up like a pair of pretty new shoes. I know this is not an area of great fascination to men, and their comment to any shoe purchase is usually, "but you already have a pair of black shoes". Yeah, so??? That has never stopped me!!!! A girl can't have too many shoes. Or I guess we can, but if it makes me happy, it's not hurting anybody. I'm always finding some pair of shoes I love, and sometimes, some really crazy ones!!  My father always said that my first word was "shoe", so apparently I started early!!
In the past, when the world was more formal and people dressed up more, I wore suits and dresses, but as the world got more informal, and we all live in jeans and people wear running shoes and flip flops even to work, I have settled into a sort of uniform: black pants and a black sweater (or black tee shirt in the summer), and I wear a lot of black loafers, or flats in the daytime. If I go out to dinner, I wear black pants and a nicer sweater. A coat, a bag, and a great pair of shoes I love. For me, shoes make the outfit. I love the black jeans at Zara, for about $20, I live in them almost daily, and reasonable black slacks that I find in Paris, but I go all out on shoes. I can't resist!!!And I have much smaller feet than all 5 of my daughters, so my shoe wardrobe is safe!! I keep some shoes for years and years, and some of them still look great. I can wander through a store and not go crazy buying clothes….but the shoes snag me every time!!! I wear super high heels sometimes when I go out at night, am grateful for the little kitten heels that are in fashion right now, and most of the time I wear flats in the daytime, to run around in. And I am scared to death of platform shoes, terrified I will fall and break a leg or fall flat on my face. And there are still a lot of cobble stoned streets in Paris, even right outside my house, which don't seem like a good mix with platforms!!
Anyway, as I packed this morning, I decided to share my shoe addiction with you, a lot of women seem to love shoes, and I thought you might get a good laugh out of some of my shoes!!!
The brands I seem to wear most are Chanel (some very classic, and their 'ballerina flats' are super comfortable!! And they do some very modern looking shoes too), Stubbs and Wootton (from Palm Beach and New York), and Charlotte Olympia (from England) are THE MOST comfortable. Their sizing is so consistent, you can buy them online and know they will always fit in your size. You can wear them for 18 hours of running around on the first day. Manolo Blahnik, are my most elegant, Gianvito Rossi the sexiest.
The Craziest:
-These are by Balenciaga, they are an architectural wonder. I bought them as a work of art, not to wear them. I can't walk across the room in them, and have never worn them. But they are 'cool' to look at. I have another crazy pair too, in brown leather with wooden soles and orange laces, with antique buttons on them, they're very exotic and strange, by Manolo Blahnik, they were a sample and were never produced. I couldn't resist them at a sample sale. I wore them once, and felt like I should be riding a yak when I wore them. But I've kept them, because they're unique!! (my children screamed at me when I bought them.)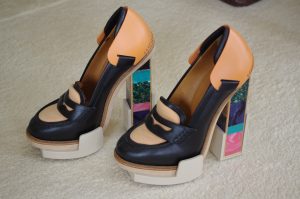 The Most Comfortable:
– Stubbs and Wootton: The "I love U" shoes one of my daughters gave me for Valentine's Day, I wear them all the time.  The black velvet ones with my initials on them. I love them!!! Also incredibly comfortable. And their fancy ones for this past Christmas, with big rhinestones on them.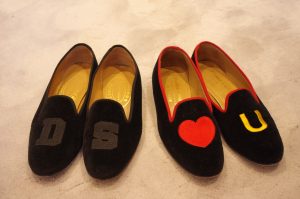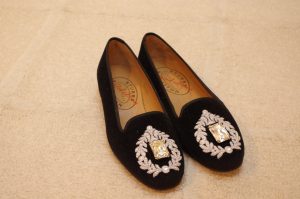 The Cutest, 'Fun'-est:
– Charlotte Olympia: They do a lot of very high platform shoes that I don't wear, and some pretty evening shoes. But what I love are their "Kitty shoes" I have a lot of them, and I think they're soooo cute. AND so comfy. Great running around fun shoes.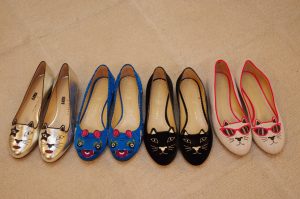 The Silliest:
-These are by Celine, silly but fun!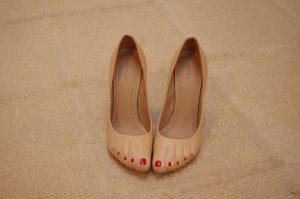 The Highest/Tallest:
– A pair of beautiful Chanel platforms, the only ones I own. REALLY tall!! I wear them at home.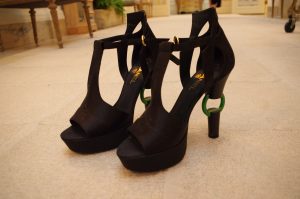 The Sexiest:
– by Gianvito Rossi, classic shapes, high heels. Really pretty to wear in the evening or to go out to dinner.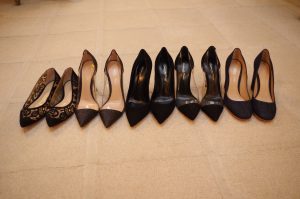 The Newest (that I couldn't resist):
– in the middle, a multi colored pair of Prada, on a low heel, that I've already worn a lot.
-The other four are all Chanel, my favorites are the pearl sandals. I can't wait to wear them, and will wear them this summer in the evening, soooo cool!!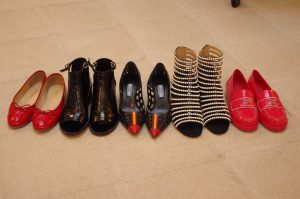 The Most Elegant:
-Manolo Blahnik are always my most elegant shoes, comfortable even in a high heel. They look so pretty. I wear some of their flats in the daytime, which are always very feminine looking, and their evening shoes are gorgeous.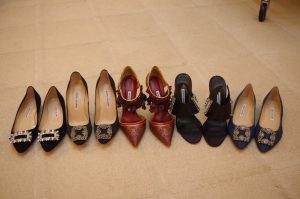 The Most Classic:
– Hermes: they make some 'hot' sexy shoes, but they also make wonderful loafers, and pretty flats and sandals, and some evening shoes. Beautiful quality. And I wear them forever, year after year. They never go out of style.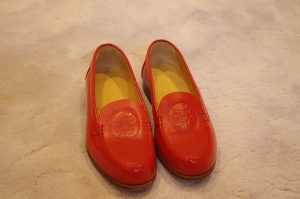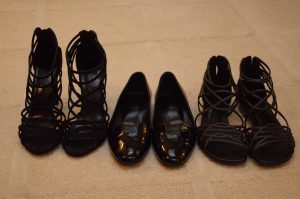 My Oldest:
– Chanel sometimes makes beautiful classics. The little flat denim pumps, I have worn for about 25 years, and I just love them, and still wear them all the time with jeans. The combat boots are also Chanel. I wear them whenever I have some 'mission' that requires solid shoes. I wore them for 11 years on the streets when I worked on a homeless outreach team. So comfy, solid and sturdy. I've had them for about 25 years too and still wear them a lot. And the denim loafers are by a company I loved in Paris that is no longer in business, Harel. I've worn them with jeans for at least 20 years and still love them.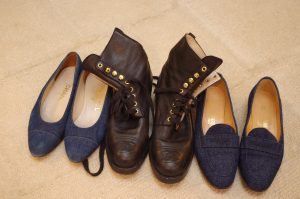 So now you know one of my worst vices and indulgences. Superficial and naughty, and sometimes expensive, but shoes just make me happy!!!
love, Danielle