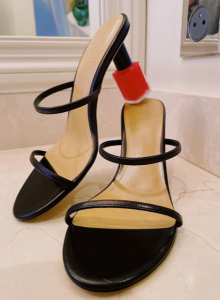 Hi Everyone,
I hope you had a lovely Valentine's Day last week. I had an unexpectedly lovely one with a friend who came to lunch. And I got to use the heart plates that one of my daughters gave me for Christmas, and new napkins I had just bought with embroidered hearts on them—-and the glasses with hearts on them that two of my daughters gave me last year. It was an unexpectedly day. And three of my daughters sent me roses and anemones.
I have been working non stop for the last two months and have hardly taken any days off. I finished one book in the morning, and started the next one that night. I don't usually work quite that intensely and normally take a few days or a week off between books, but the weather has been lousy, cold and rainy, and the Covid numbers high, so I decided to stay home and really dig into my work after the holidays. I can go from one book to the next like that (although it is exhausting, because the writing is physically demanding because I work such long hours day after day so as not to interrupt a book) because I spend months working on the outline, and by the time I'm ready to start a book I have all the details lined up, the plot worked out, have written pages and pages about each character, and I outline each chapter in detail. So when I start the book, everything is lined up, although I adjust some details as I go along, and add a few things. So I have been working hard.
And one of my favorite things to do when I'm not working, for fun, to unwind and relax, or if I'm down, is to go shopping. I love fashion and pretty clothes, and fun things to wear (when my youngest son was little, he loved little cars (now he likes real cars!!) and I bought a jacket to wear when I went out with him, that had little match book cars sewn all over it. I still have the jacket, it's amazing). Shopping is not a deep intellectual pursuit, but I really have fun shopping. I try not to buy impulse buys and buy things I will really wear—particularly when Covid is over. I have lived in jeans (particularly my favorite ones with the hole in one knee) and the cashmere nightgowns I wear when I write (with the holes in the elbows) since Covid started. And more so with each lockdown. I feel like I haven't gotten dressed up in two years. When the first lockdown happened, I tried to look 'cute' every day to keep my spirits up. And I didn't see anyone for 3 months. By the 4th lockdown. I was no longer looking cute, and dressing for myself and my dogs had lost its charm. (My dogs really don't care what I wear). I haven't been to a restaurant in two and a half months, in the recent Omicron surge where the numbers were terrifyingly high and the contagion extreme, so I haven't had a chance to get dressed up since Christmas—but today I went shopping, and my favorite thing to shop for are shoes. My father said that my first word was 'shoe'. I don't know if that's true, but I certainly enjoy them. There are rumors that I have thousands of pairs of shoes. I don't, but I do have a lot of them, and have so much fun shopping for them.
Last week, I bought a super fun pair of summer sandals, and the heel is a bottle of red nail polish. Soooo fun!!! Sometimes I like silly shoes, and sometimes I just like really pretty shoes. I like loafers and ballerinas for comfort. I'm not a huge sneaker fan, although I have a few. I bought some cute red clogs last year and am afraid to wear them, because I'm afraid to step on my dogs' tiny feet in them. I like heels when I get dressed up, but not crazy high. And I like simple pumps. And I will confess, today I went wild. I bought a pair of loafers, a pair of black patent leather short boots, I bought a pair of dressy black suede flats, and the same ones in white for the summer, and a pair of simple black patent leather high heels. (for some reason, I love black patent leather, maybe because it reminds me of when I was a kid and I loved wearing my black patent leather mary janes, and getting a new pair was always exciting!!) Last week, I had a bad day, and bought the nail polish sandals to cheer myself up, and today I was just celebrating the end of a book, and rewarding myself for working hard. It's a harmless past time and I work hard…and if it makes me happy, why not??  And shoes are a pretty harmless vice to have!!
So that's my guilty secret—-and I don't even feel guilty about it. I came home with my loot, and was happy as can be. Sometimes it's good to indulge yourself, and spoil yourself when you can.
I have a sign in my office in California that says "Do what makes you happy"—-I'm a dutiful person and always do my "homework" before I let myself do something fun. I did my homework, and now I had some fun!!
Do what makes YOU happy, whatever that is. getting your hair or your nails done, going on a hike, or to the beach. Seeing a friend, reading a book, or spoiling yourself, a hot fudge sundae, shopping. Whatever it is, we all need to spoil ourselves once in a while, when we can. Today was a big treat!!!  Have a great week!!
love, Danielle