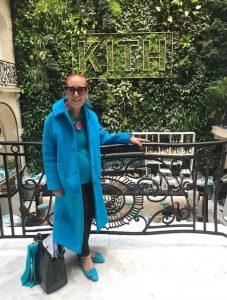 Hi Everyone,
When my youngest, "coolest" daughter came to visit me in Paris recently, she came armed with a list of "cool" stores to visit. She has had shocking pink hair for years, knows and owns every cool sneaker ever made, from every collaboration of shoe designers with famous brands. She was wearing Golden Goose sneakers with silver sparkles, and she loves Balenciaga streetwear.
She took me to a store named Kith, which I'd heard of and never been to, and she has visited in several cities (LA and NY), and I didn't know what to expect. I expected the usual fashion forward clothes I couldn't wear, and was prepared to wander the store aimlessly while she checked it out. I was surprised by the address, in a posh location, and recognized it once I got there. The location was previously a small chic boutique hotel, with a popular restaurant: Pershing Hall. I recognized the two story high wall of intertwining leaves that was previously in the restaurant, and is now at the heart of store. Past 3 security guards at the entrance, the entire interior is white marble (with gorgeous marble benches), and the inside of the 'store' is spectacular. Their gift shop has jewelry, custom Rolex watches, size 17 glass high top sneakers to be used as vases, and others in the same design are candles. Designer bears and decorative items, and upstairs walls of rare, unusual sneakers, men's and women' clothes. And in the center of the ground floor, the restaurant Sadell's , my favorite brunch spot in NY (fabulous pancakes, and delicious salads). Next stops on our list Supreme and Off-White. Shopping with my coolest daughter is a LOT of fun!!!
I hope you have a great week, with some frivolous moments, and some fun!!
love, Danielle