I have always had a passion for fashion. At fifteen, while attending NYU, I also attended Parsons School of Design (they had a joint program at the time, and now have one with Eugene Lang, and one of my daughters has followed in my footsteps, and will graduate this year).
From the time I was really young, I loved fashion, and wanted to be a designer (I also wanted to be Dominican nun, and managed to do neither. My life took me on other paths). When I was fourteen, my grandmother gave me a beautiful, very simple white wool coat. I took a good look at it, recognized it as a pretty coat, and then wore it backwards as a dress. Much better! I was fascinated by what people wore, and my parentsí elegant friends, most of whom were European, since they were, and many of whom wore French clothes. I was enamored by famous old designers, many of whom I learned about at Parsons. Elsa Schiaparelli, Coco Chanel,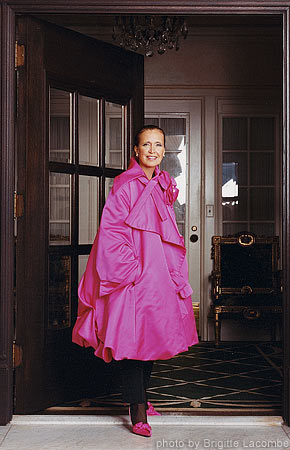 Charles James, Balenciaga, and of course Christian Dior. Wherever possible, I read their biographies, and devoured everything I could learn about them. And when I was finally Ďgrown upí, I went to the haute couture shows in Paris, and was in awe of the magnificent clothes. For me, it was always an art form more than about a wardrobe. I loved seeing the clothes, even if they wouldnít look good on me, and whether or not I could afford them. I just wanted to see them, and what incredible creations they were. My mother had been a model in her youth, but she had never had that passion for clothes (although she looked fabulous in hats, and I loved those too. I have a wall of her old modeling pictures now).
The same grandmother who gave me the white coat that I wore backwards as a dress, also gave me my first Hermes Kelly bag at 17. I treasured it. It was my prize possession, and I still have it, and it is still in pristine condition, although Iíve added others to the collection. But that first Kelly bag has always meant the world to me.
To some people, loving clothes must seem very silly, and maybe it is. But beautiful clothes, and the work that went into them, has always been a source of awe for me. In the old days, the people who worked in haute couture French fashion trained for 12 years in the designersí ateliers.
My grandmother also gave me my first couture dress, and my second one was a hand me down Balenciaga from my mother in law. Wow! I was thrilled.
Sadly, most or many of the important legendary designers are gone now, or the houses have radically changed. Haute couture fashion shows happen in Paris twice a year, in January and July.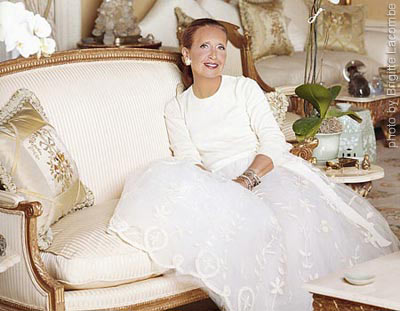 And in the old days, the couture shows lasted for a week, when you dashed from one fashion show to the next, dazzled by what appeared on the runways. Now the event lasts three days, and many of the designers are new. Dior has a very different look and is extremely theatrical, designed by John Galliano. Givenchy was one of the great houses and has a whole different look now too. Balmain closed as a couture house when Oscar de la Renta stopped designing it. And Balenciaga did the same years before and is only ready to wear now. And it was a double loss to the history of fashion when Yves St. Laurent stopped doing couture, and then when he died earlier this year. St. Laurent is now only a ready to wear label too. The two major designers left are Karl Lagerfeld for Chanel, and Christian Lacroix, who is one of the great artists of fashion. Iím grateful to have seen the work of some of the legendary designers in my life. And when my daughters were little, I took them with me to the shows, and it made a lasting impression on them too.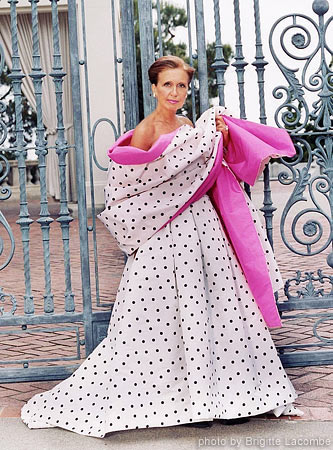 One of them is studying fashion, and two others now work in fashion, one as a stylist, and the other as the fashion editor of a magazine. I guess they caught the bug from me. And the one in school did a fantastic video of fabulous shoes last year. So, as you can see, fashion is a big deal to us, not just as something to wear but as an art form. And I keep all my beautiful old couture dresses like treasured works of art to pass on to my children.
And fashion doesnít just have to be couture, just as art doesnít have to be by Renoir or Picasso in order to love it. Sometimes itís even more exciting to create a great look out of nothing. In my early writing days, when I had very little money, I once bought a rabbit coat at Sears (when they sold clothes), changed the buttons, put a belt on it, and it actually looked pretty good. Real fashion sense is about giving something ordinary a special twist and turning it into something special. Itís what makes vintage clothing so popular these days, itís about taking something old and giving it a new life and a new look. Iíve had just as much fun with unexpected bargain finds as I have with couture. Sometimes there is more merit in turning something ordinary into something exciting to wear, which is what the young do, some of them with enormous flair. You donít have to be rich to be chic — although yes, itís fun to wear great clothes. But you can make something great out of something simple too.
The greatest compliment was when I was on the International Best Dressed List, an honor that really flattered me. Iíve had awards for my work with the mentally ill and the homeless, and for my books, which mean a great deal to me, but it was really fun to be on the best dressed list too.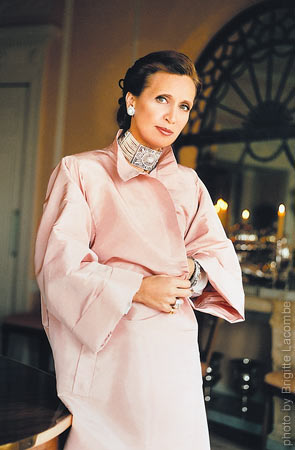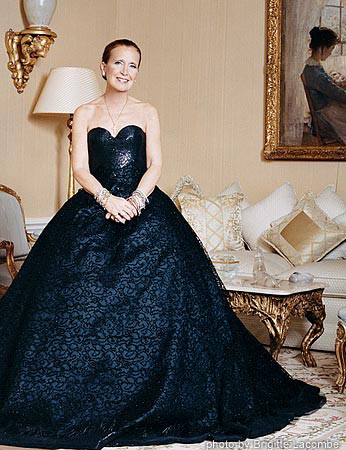 The fashion bug bit me as a kid. I still have it. I still love it, and I guess I'll be enjoying fashion for a long, long time, and so will my girls.